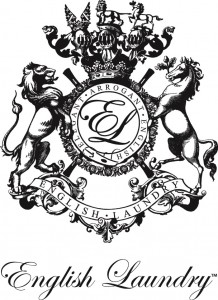 The English Laundry brand, launched in 2010, is home to unique apparels distinctly British. With a combination of elegant charm and high quality materials, it quickly garnered many fans in England, the USA and all over the world. Today, the line is carried in over 4,000 retail locations in North America, Canada, Mexico, Australia and New Zealand.
After the success of its men's wear collection, English Laundry has branched out and now offers wardrobe for women, footwear, and fragrances. This is all thanks to the genius behind the brand, designer and creator Christopher Wicks. Starting as a young designer for one of England's top shirt manufacturers, he quickly established his name in the fashion industry and launched his own business.
Wicks' distinctive designs are inspired by his passion for music and fashion. He also pays homage to his hometown, Manchester, through his creative ideas. Specializing in men's evening attire, Wicks later introduced his sportswear line, which was also enthusiastically received by customers from different parts of the world.
In 2010, Wicks was awarded by the Fashion Industry Guild of Cedars Sinai Medical Center as "Man of the Year", an accolade previously given to bigwigs like Maurice Marciano of Guess and Dov Charney of American Apparel. Not long after, the Otis College of Design presented him with the honor of being the 2012 Designer of Choice.
The English Laundry fragrance, one of the newest creations of Wicks, is quickly gaining the approval of scent aficionados. There are over ten different scents in various sizes offered in the market as of today.
Wicks has introduced two fragrances designed for the contemporary woman – English Rose and No. 7.
English Rose carries the classical scent of an English garden. Its top notes of fresh kiwi, red lychee and golden quince lift the senses, complimented by white chocolate and jasmine petals at the heart. The base carries the peaceful fragrance of orris roots, musk and sensual woods.
An interesting combination of clean and sensual bouquet, the English Rose draws compliments all around. It is a long-lasting fragrance that can last into the night.
No. 7 for Women entices with top notes of sparkling pear, jasmine, melon and apricot. At the middle, gardenia, jasmine and toasted almond pervade. Sandalwood, vanilla, whipped cream and musk add a beautiful depth.
Delicious and enchanting, No. 7 is both flirty and fun, with an intriguing hint of masculine musk. It is good for an evening romp or dinner date.
The first on the English Laundry fragrance line for Men is Arrogant, with its woody and aromatic scent. Arrogant is an enchanting blend of fresh bergamot and cedar, lifted with a core of lavender and coriander. Sandalwood, amber and sheer musk are its base.
Refined and classic, Arrogant is a scent appropriate for any occasion. Its first impression  is fresh with a hint of citrus and spice that gently mellows. Men find it light and not in the least overpowering.
No. 7 also has a version for the gents. A citrusy rush of lemon and bergamot, interweaving with the mildness of lavender and tarragon, first ensnare the senses. At the core are notes of basil and clary sage, along with jasmine and geranium. Cedar wood, patchouli, amber and musk provide a clean after scent.
Deep and distinctive, this aromatic green fragrance is perfect for office wear or a fun night out. It is designed for men who want to create a powerful first impression.
The Riviera Cologne of English Laundry is aromatic and spicy. Bright, fresh top notes include lemon, lime and bergamot with a hint of cedar. The middle note is floral fusion, with jasmine, lavender, lily and ylang-ylang. Rosemary, oakmoss, guaiac wood, amyris and sandalwood make up the sensual base.
Fresh and clean, Riviera Cologne is great for daytime wear. Men with charismatic personality will find this irresistible.
Oxford Bleu, another inspired scent, is a complex layer of distinctive bouquet. Top notes of green apple, mint, and lemon give way to hints of iris, tonka bean, and geranium. Woodsy base consist of vetiver, vanilla, sandalwood and oakmoss.
Introduced by Christopher Wicks in 2014, Oxford Bleu is a traditional English scent, great for warm weather. Wearers like its tasteful and clean scent.
Notting Hill is a classic scent, with a citrusy opening that slowly gives way to musky undertones. Top notes of bergamot, lemon and lime give off a clean scent, enveloped in the luxurious core of jasmine and pepper. Cedar, sandalwood amber and musk offer a woodsy finish.
Elegant and captivating, Notting Hill is a balanced scent fit for a refined gentleman. It is a fragrance to transcend the ages.
Floral and fruity, Tahitian Waters is a soothing perfume of the Christopher Wicks' line. It is an invigorating blend of citrus and floral, inspired by the tropics. Top notes are lime, bergamot, coconut and orange, with jasmine and ylang-ylang as middle notes. Brown sugar and cedar provide the finishing touches.
Infinitely refreshing, Tahitian Waters is the scent of summer, reminiscent of sandy beaches and warm breeze. It is perfect for outgoing gents.
The seventh fragrance on the list is crisp and oriental – Signature. It is a masculine scent with top notes of earthy bergamot and cedar, fruity lemon, and relaxing lavender. Nutmeg and coriander form its core, while base notes are sandalwood, vetiver, musk and amber.
Sophisticated and manly, Signature is a titillating blend of English and Eastern essence. It is suitable for men who like to experiment.
Royal Aqua is a classy addition to the English Laundry fragrance line. It opens with a refined blend of watermint, basil, pepper and ginger, with a touch of lavender. Cedar, incense, coriander and lotus flower rest at the heart. The base is a spicy combination of musk, sandalwood, iris and violet leaf.
Nice and uplifting, this cologne captures an Englishman's composed persona and can be worn in any occasion.
The English Laundry line also includes body lotion, shower gel, aftershave balm and deodorant, in addition to its Eau De Parfum collection.